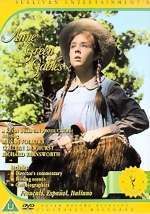 Ever since I caught a pledge drive on PBS, I have been in love with this version of the Anne of Green Gables series. My great-grandmother gave me a copy of Lucy Maude Mongomery's series when I was nine or ten, but they remained on my selves for years. I've always loved the idea of reading the classics, but I only do it when someone makes me, or I've seen the movie.
The CBC, Kevin Sullivan version of the movie is one of the most faithful book-to-movie adaptations I've seen. So often, screenwriters or directors completely rewrite the storyline to fit their ideas. If you've ever seen the British tv series
As Time Goes By
, you'll watch the author's reaction as his book is butchered in order to make a movie.
Kevin Sullivan remained faithful to the first few books in the series, but by the third movie everything went awry. Megan Follows is adorable as young Anne. She captures the dreamy, imaginative soul that tried so hard. My heart breaks every time she is sent back to the orphanage, every time she gets put on probation at Green Gables. I laugh heartily every time she breaks a slate over Gilbert's head, and I cheer him on as he subtly wins the little red head's heart.
Anne encourages me whenever I get discouraged with schoolwork. She loses all her friends at one point, but she manages to retain her kindred spirits in her soul. Through poetry and her imagination, Anne can overcome all obstacles. Sometimes her daydreams take her down the wrong path, but she always realizes that and follows her heart back home.
Anne: A New Beginning
will be coming out in the near future, but with out Megan Follows as Anne, and it is not based on the books. I'm looking forward to it, but with mixed feelings. The first two were absolutely wonderful, true to the book. The third was still a good story, but it wasn't true Anne. She was reckless and motivated, but it wasn't the imaginative Anne of the books. Even after becoming a mother and a member of society, she she retained her imagination, and it allowed her to connect with her children in a way many parents today only dream of. Despite what Hollywood does to the stories, Anne of Green Gables will always be my hero. I hope my imagination can soar as high.